It's no mystery what kind of books I enjoy most. Action, adventure, scientific-fiction, fantasy, those are the kind of stories that I get into. If I get bored of a book, I will most likely grudgingly finish it. I could never leave a story unfinished no matter how bored I get.
One of the first books that I couldn't put down was The Lightning Thief by Rick Riordan. It was a book that we had to read for my English class in elementary school. Now I was only supposed to read the chapters that the teacher assigned each night for homework, but of course when I started it that first night I just had to finish it. There are certain stories that I wish were true and that I could be a part of that story. This was one of those stories. It's based on Greek mythology where young kids known as demi-gods live in a camp together and train for battle. A demi-god is half human and half god, so these are the children of Greek gods. Of course my entire class at school wanted to believe that they were demi-gods. There's a test that you can take to find out if are a demi-god in case you're curious (i'm 58% demi-god just so everyone knows). I also found a quote that I have been able to relate to since sixth grade…
"Deadlines just aren't real to me until I'm staring one in the face."
Not all quotes have to be inspirational you know!
The Lightning Thief is the first book of the series Percy Jackson and the Olympians. There is also a follow-up series and multiple supplements to it.  The whole series is great! You can never get too old for an adventure with the gods.
There was also a movie adaption of this book called Percy Jackson and the Olympians, The Lightning Thief. It's not one of my favorite adaptions because it strays a bit too much from the book for my liking. If you're not up to reading the book, the movie gives you a similar picture of what the book portrays. Except it is all too true that the book is always better than the movie, especially in this case (well in my opinion). I would recommend reading the book, trust me it's worth it. Even if you read it after you've seen the movie (which I would not recommend, always read the book first!). Buy the book here and then watch the trailer for the movie here! and yes, you have to do it in that order!
If you like the first movie, there's a second one called Percy Jackson, Sea of Monsters. Again, it's not as good as the book, but it's still worth watching. Of course, you can watch the trailer to see if you think you'd actually like it.
Another series that is about teenagers with super-human powers is I Am Number Four by Pittacus Lore. It is the first book of this six part series called The Lorien Legacies. Plus sixteen additional books called The Lost Files. You can take a look at all of the summaries of each book on the fan website. Instead of this book having Greek gods, it has aliens. Which I think is equally as cool, and slightly more intimidating. There are tons of nice and inspirational quotes that I'm dying to write, but I don't want to bore you (you're welcome). So here's the one and only quote that I'll share with you from this book that I highlighted when I read it:
"We don't have to be defined by the things we did or didn't do in our past. Some people allow themselves to be controlled by regret. Maybe it's a regret, maybe it's not. It's merely something that happened. Get over it."
Okay I'll move on to the movie adaption before I change my mind and decide to put another quote.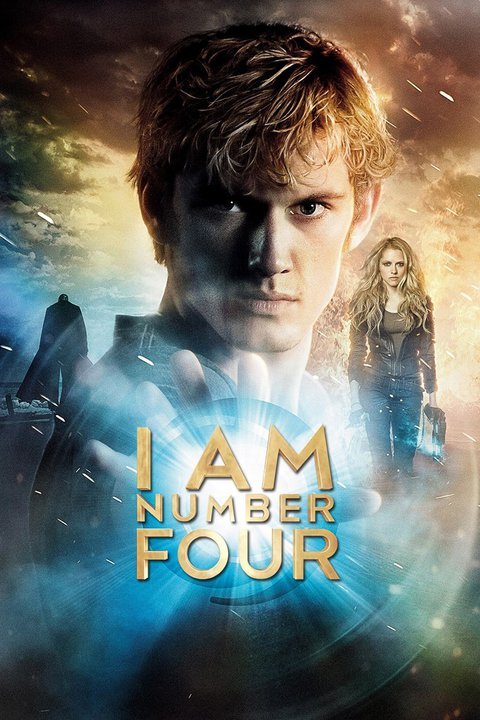 To be honest, I don't remember the movie too well. I remember the book way better than the movie, because well I loved the book. From the looks of the movie cover it probably focused too much on the romance aspect and I got bored. That's judging something by it's cover though and I don't do that, so I will just have to re-watch the movie! Here's the very dramatic movie trailer to get you interested. I must say it again and again: read the book then watch the movie! You'll thank me for it!