I'm pretty obsessed with comedy now-a-days. I've always liked comedy of course, but lately I've been watching a lot of comedy shows. If a movie, book, or tv show isn't funny then I probably won't be too interested. There are very few exceptions where I like something that isn't comedy at all (The Walking Dead is an example, I talked about that show in a recent post).
Netflix is a prime spot to find a good comedian to watch. There's hours upon hours of comedian stand up shows on Netflix, so the one's I'm about to name are the one's that I've watched so far that have kept me laughing for ages. Just a warning to everyone, I am a college kid so of course I find humor in very weird and crude things.
Here's the very long list of my favorites:
Anthony Jeselnik Thoughts and Prayers
Aziz Ansari

Live at Madison Square Garden

Do you own a smart phone? You may be callous and a rude flake. At least according to Aziz Ansari. 

Buried Alive 

"Parks and Recreation" star Aziz Ansari takes the stage to share his unfiltered views on adulthood, babies, marriage, love, and more in the modern era. 

Dangerously Delicious

Aziz Ansari channels his crude side in his 2012 special, taking on topics like watching porn and the struggles of dating in New York City. 

Intimate Moments for a Sensual Evening 

Red-hot actor and stand-up comedian Aziz Ansari offers up an uncensored routine to a full house, including his foulmouthed hip-hop persona, Randy. 

Anthony Jeselnik Thoughts and Prayers 

There's no subject too dark as this comedian skewers taboos and riffs on national tragedies before pulling back the curtain on his provocative style. 

Leslie Jones Problem Child

Irreverent comedian Leslie Jones-aka "Big Les"-leaves audiences howling with laughter as she performs her raunchy style of stand-up.

Kevin Hart

Laugh at My Pain

All riiight. Kevin Hart airs out his family's dirty laundry, childhood issues, and his dad's aversion to underwear. 

Seriously Funny

With his unique hip-hop style delivery, African American stand-up comedian Kevin Hart expounds on life at a sold-out concert performance. 

I'm a Grown Little Man

Stand-up comedy star Kevin Hart delivers his unique perspective on work, race, family, and friends, with his laugh-riot comedy show. 

Chelsea Peretti One of the Greats

"Brooklyn Nine-Nine" star Chelsea Peretti showcases her diverse talents in this dark yet silly reimagining of the comedy special.

Women Who Kill

Top comedians Amy Schumer, Rachel Feinstein, Nikki Glaser, and Marina Franklin join up in New York City for one hilarious nigh of stand up comedy.
and finally my all time favorite comedian Bo Burnham with his show What. Left brain and right brain duke it out-and ultimately belt out a melody-in stand-up comedian Bo Burnham's quick and clever one-man show.
I've watched Bo Burnham's show an uncountable amount of times. His show is really unique because of all the songs he writes and performs during it. I can sing along to all the songs, and even though I know the ending to all the jokes I still can't stop laughing.
Bo Burnham has also released a very funny book called Egghead or. You Can't Survive on Ideas Alone. It's filled with pages and pages of stupid and funny jokes.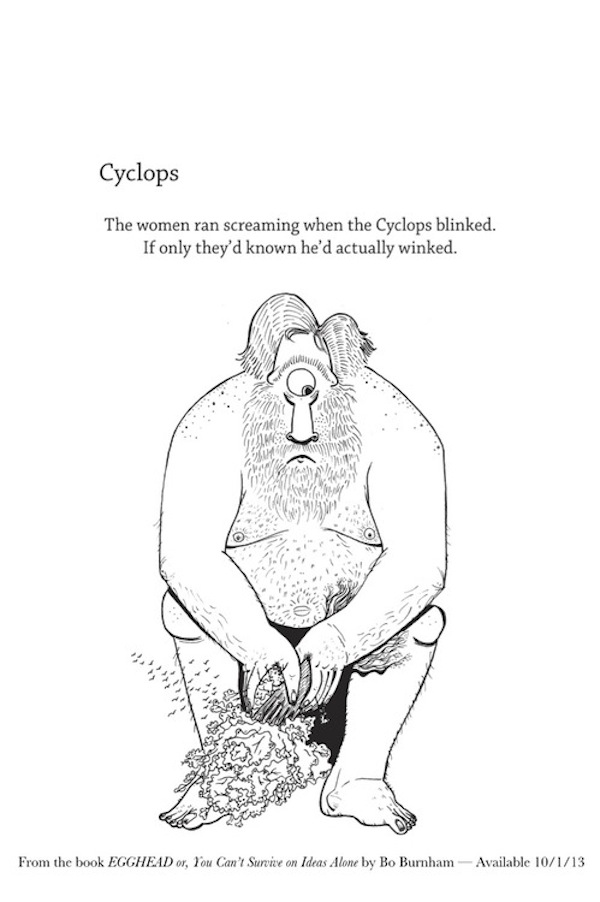 An example of one of these stupid jokes is called "Cyclops"…
So if you thought that joke was funny or just stupid then you'll like this book. There's also some crude humor. Actually, it's more like a lot of crude humor. Which I find great but like I said in the beginning, I find that kind of stuff funny. So if you get offended easily then this might not be the book for you.
Believe it or not, there's actually some nice poems in Egghead as well. Here are just two examples, I don't want to ruin the whole book for you…
I even had the absolute pleasure to see him perform his new show called Happy live in September. I had bought tickets to this show during the summer, and it was something that I was looking forward to for such a long time. I can honestly say that I don't think I've ever laughed so hard in my life before. I recommend checking out his website to learn more about him. His website is pretty cool as well. He posts pictures he's taken and writes about things he likes and hates.