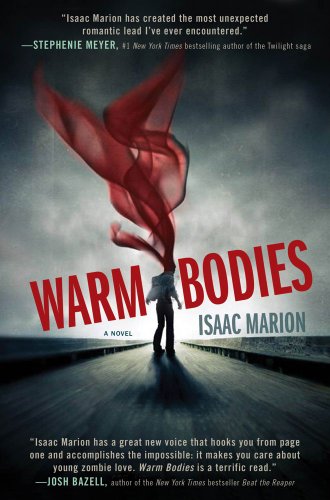 Warm Bodies by Isaac Marion was the first post-apocalyptic book the I ever read. The concept of zombies and the living dead never appealed to me. I was probably more scared than uninterested. Then I decided to read this book for some reason a few years ago. Now it's one of my favorite books, and has my favorite quote of all time. It was one of those quotes that I had to highlight when I first read it.
"What wonderful thing didn't start out scary?"
I think I first read this book in middle school, and this quote stayed with me all the way through high school and was my senior quote in the yearbook. Theres tons of quotes that will stick with you in this book. My other favorite is:
"We are where we are, however we got here. What matters is where we go next." 
As you can tell I like inspirational quotes. You wouldn't be able to tell that a zombie thought both these things. This book is full of humor, and surprisingly there's some romance. It's not a typical love story obviously because it involves a zombie, but it's a love story non-the-less! It's a love story you won't have to suffer through and won't be able to predict, which is one of the better kind of love stories in my opinion. I would definitely recommend reading this book, but if you're unsure you can read the synopsis of it on the authors website. On Marion's website you will also find reviews, events, an about the author page, and it also has the synopsis of his other book The New Hunger. You can also buy the books on the website if you think you might like them (trust me, you will).
You might have already heard about this book because of it's movie adaption. I usually don't like book to movie adaptions, but I actually like this one a lot. It didn't stray too much from the book, and the actors selected were very fitting in their roles. When the actors are Nicholas Hoult and Dave Franco, you can't really go wrong. This movie is also narrated by a zombie's thoughts. When are you ever going to get that perspective again? Granted, the story is fiction, but it's still a movie narrated by a zombie and that's pretty interesting. Check out the trailer here if you think you might be interested in watching it.
There are quite a lot of zombie movies, most are quite gory and gross. After I was able to get past all that, I started to love those type of movies. Of course, my mom is not happy at all with my movie choices and can't understand why I like these types of movies. At least my dad is always backing me up when I want to watch a zombie movie. My personal favorites are Shaun of the Dead, Zombieland, and World War Z. These three movies all portray zombies differently which is what I love about them. No zombie story is ever the same.
One show that I can't wait to watch every Sunday is The Walking Dead. Yes, you can't ever have a favorite character because she or he will most likely be killed off, but that shouldn't stop you from watching this awesome show! It's been five seasons of ups and downs. More importantly, it's been five seasons of a secret competition of who can kill a zombie (or walker as they call them in the show) the most creatively. It doesn't have the humor that Warm Bodies does surrounding the zombie apocalypse, but it's attention grabbing in it's whole essence. It's packed full of action and adventure, a little bit of romance, and some heartbreaking scenes. When one episode ends one week, you feel like you won't be able to make it to next week to be able to find out what happened or what's going to happen. Yes, the first five seasons are on Netflix. If you're going to start watching them I would recommend setting aside a few days. Watching an episode or two turns into watching a season or two when it comes to this show.
This show is a drama based on a comic book series that was written by Robert Kirkman. If you're interested in more of the comic book side than the television show, you can read all the comics here. I haven't gotten around to reading the comics yet, but I hope to soon!