I've mentioned Aziz Ansari (his website is linked here) in two posts already, but I want to dedicate an entire post to him because I love him that much. He was the amazing Tom Haverford in the show Parks and Recreation and has done many stand up specials. A truly diverse actor who stares in his new series Master of None. He co-created this series with Alan Yang who was a writer and producer for Parks and Recreation.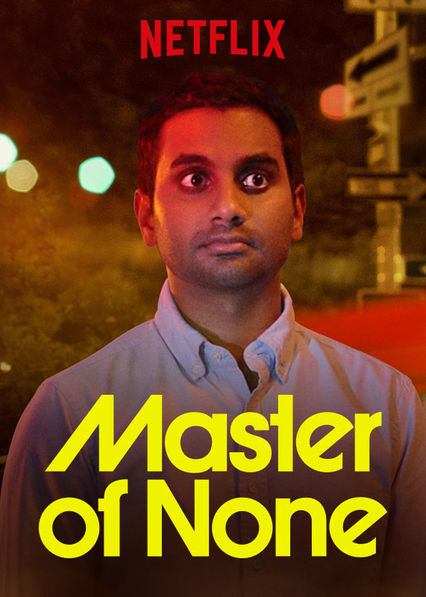 Master of None can be simply described as a 30 year old actor living in New York City. It's about his day to day life
It took me one day to watch the whole comedy series of Master of None. It's a binge worthy show for an uneventful Saturday. There is only 1 season that has 10 episodes. The episodes are only about 20 minutes so it wasn't that difficult especially since I loved this show. It was only released on Netflix to stream in November so it hasn't been out long at all. It's a completely original series that is engaging and extremely funny.
It was received very well by critics and currently has a 100% approval rating on Rotten Tomatoes which is pretty amazing. The critics consensus is that it is "exceptionally executed with charm, humor, and heart, Master of None is a refreshingly offbeat take on a familiar premise." It breaks the mold of the classic sitcom and is described as a "mature rom-com." It's absurd, but it's also very realistic. You don't really know what's going to happen next, and you're okay with just going with the flow of the unknowing.
It sometimes doesn't feel like a comedy because of how this show is able to address serious issues without being insensitive. It's topical while still being thoughtful. This show also raised many questions about sexism, race in the media and in general. Several of the titles are self-explanatory of what the issue will be for that episode. Titles such as Parents, Indians on TV, Old People, and Mornings.
"Every single person, pretty much, is taught what they're supposed to do: go to school, find someone to love, get married, have kids, raise the kids, and then die. Nobody questions that. What if you want to do something different?"
The diverse cast of course also makes the series great. Diverse meaning that there is one Indian man, a white man, an Asian man, and a black woman. It may seem that they are trying to reach different demographics, but I would disagree with that. Each character is distinct and has an odd personality. It makes the story better with their strong nature and persona. It is New York City after all, and New York is home to many diverse and oddball people. There is even several appearances from Ansari's parents who play his real parents on the show. He talked about it on The Tonight Show With Jimmy Fallon. Here is an article that shows their funny family bond.
"All the demographics that are really opposed to gay marriage, they're all gonna be dead soon. Like whenever they ask young people, young people are like 'What? What are you talking abo-All music is free right now! What are you talking about? Oh, two dudes are kissing? I'm about to watch every movie ever, RIGHT NOW.' They don't care AT ALL."
Ansari mentioned his new book briefly in that interview so I thought I should add this to the post too. I haven't read it yet but fingers crossed I get it as a Christmas present in a few weeks. Modern Romance is "a hilarious,
thoughtful, and in-depth exploration of the pleasures and perils of modern romance from one of this generation's sharpest comedic voices." It is currently a New York Times Best Seller and a Goodreads Choice 2015 Winner. This is the article that the New York Times wrote about Ansari's book.
I think that the reason I love Ansari so much is because he understands my generation so well. He addresses things that are serious problems and makes people know and learn about them. It best represents the generation known as the iGeneration, which I'm proud to say is the generation that I'm a part of.
"I've never seen a ghost myself, but it would be interesting if I did. I live in a newer building, so I think it would be a modern ghost…I would wake up and there would be a ghost standing over my bed, just like, 'What's your Wi-Fi password?'"